Viikko on valunut taas pikavauhdilla ohi. Viime perjantaina minun olisi pitänyt istua junassa kohti Poria, silmät onnesta loistaen ja kultainen lippu kädessä. Sen sijaan nojailin lapionvarteen, mieli mustana ja Tori Amos kuulokkeista kaikuen, lippukin oli jo uuden omistajan kätösissä eikä minulla mitään toivoa keikalle pääsemisestä. Onnellisia olette te, jotka keikan nyt kokivat, mutta onneksi Tori tulee varmasti vielä uudestaan Suomeen. Toivon ainakin niin ♥
Mieltä ovat vastapainona sulostuttaneet mm.vegaanisten vohveleiden, suklaasoijajäätelön ja lapsuuteni Irvikissa-henkisessä teepannussa haudutetun mangoteen ihanat aromit, sekä rakkaan kanssa vietetyt pari päivää (jotka menivät aivan liian nopeasti!). Ihmettelen aina yhtä paljon kuinka yksi ihminen saa arjenkin tuntumaan minilomalta.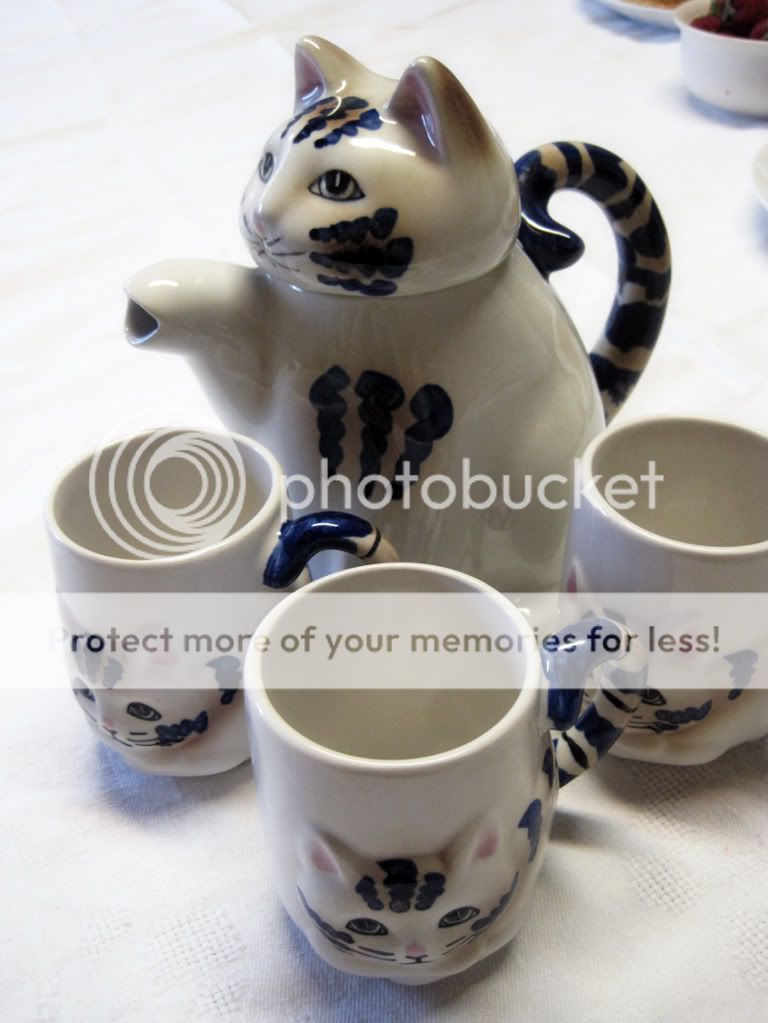 Muuten päivät ovat kuluneet hautakivien, pölynkatkuisen maan, tulisen auringon ja raskaan työn merkeissä. Seitsemän tunnin työpäivät näiden helteiden alla laukaisevat uskomattoman väsymyksen koko loppupäiväksi, nettiyhteyskin pätkii täällä jumalten selän takana joten päivittäminen on hiukan tavallista hankalampaa. Kuumuuden painostuksessa kaipaan jo pimenevien iltojen viileyttä, pehmeän, mustan sametin tuntua iholla, saappaiden ja korsettien nyörityksiä sekä sateenvarjoja. Syksy, tule jo pian!
Translation: During this silent week I've mourned after the gig of Tori Amos that I sadly had to pass, worked real hard at the graveyard under the boiling sun and struggled with our internet connection. I've also eaten half a dozen vegan waffles, sipped mango tea from my childhood's Cheshire Cat-wibed teapot and spent a few lovely days with my love.
Pros and cons have been quite equal this week, but I simply can not stand this heat. Autumn, please come quickly!